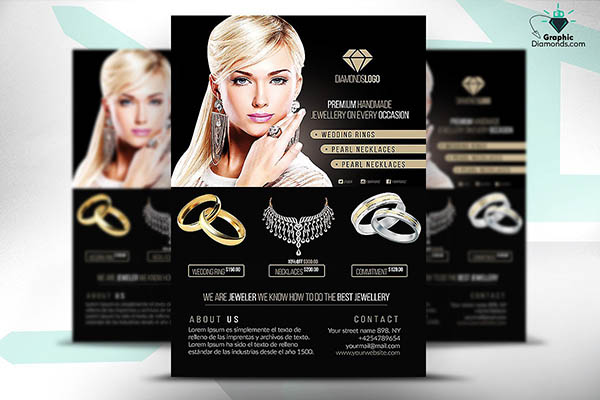 May 22, 2018
Web Design for Jewelry Stores
The second most important thing after opening a jewelry retail store is creating a website for it. In fact, some may claim you should do this the other way around. While foot traffic to your store may bring you some business, most of your potential customers may never know you are there if you don't have a website and that is just the beginning.
To tap into the multi Billion dollar per year online jewelry sales you need to step up your game. The fact is that while having a website is important, it is merely the first step into generating substantial revenue from online jewelry sales, yet, the huge potential is abundant and those who think forward and adapt to newly available technologies are reaping huge rewards while those who fail to adapt are puzzled why their business is dwindling.
When Amazon first started selling books online most everyone were skeptic and never thought they would make it. Fast forward to today and Amazon is a Multi Billion ecommerce giant generating as much revenue as an annual budget of some countries. Others from the jewelry industry who jumped on the internet bandwagon early on like Tiffany & Co. & Blue Nile are generating around $500 Million dollars per year (source: Wikipedia).
While you may never generate as much revenue from selling jewelry online you can certainly increase your sales exponentially by tapping into the power of the internet and into the habits of your potential clients who use it daily, sometimes a few times a day.
If you are in the business of selling jewelry, you should not only have 'a' website, but should have a full features ecommerce online store as an extension of your retail store. Professional jewelry ecommerce online store can generate twice as much business as your retail store. Internet marketing can take it to a whole new level and increase your sales exponentially.
Selecting the right company to develop your online jewelry store is essential part of your success. Jewelry Web Design have been part of the trade since 2001 creating solutions for jewelers, jewelry stores, manufacturers, and jewelry designers. We are familiar with the unique requirements and are able to meet and exceed your expectations.
Contact us today to discuss how we can help you increase your sales using web design and marketing designed around your business.
Ready to discuss your requirements? Click Here To Contact us